LJYB Families,
We have a "SWEET" Deal just for you! You're invited to Sweetgreen Restaurant, in the UTC Mall, with early access before their official public opening. Sweetgreen's mission is to connect people to real food by sourcing local ingredients, cooking from scratch each day, and making healthy choices more convenient. Plus, they have kid-friendly options!
They are generously offering free meals & discounts for our league beginning TOMORROW, MAY 19TH, and through May 29th. Click this link to view our exclusive LJYB invitation:
https://sglajolla.splashthat.com/
LJYB Families,
We have the perfect place to grab a meal pre or post game, while greatly supporting our league! Our local hotspot Breakfast Republic (located on Pearl Street) is offering 100% of the sales from their "Pineapple Upside Down Pancakes" to go to La Jolla Youth Baseball. Their signature fluffy pancakes topped with fresh pineapple & pineapple butter are perfection-on-a-plate. Order one for the table, in addition to all your menu favorites, and everyone can enjoy a sweet bite while supporting our league!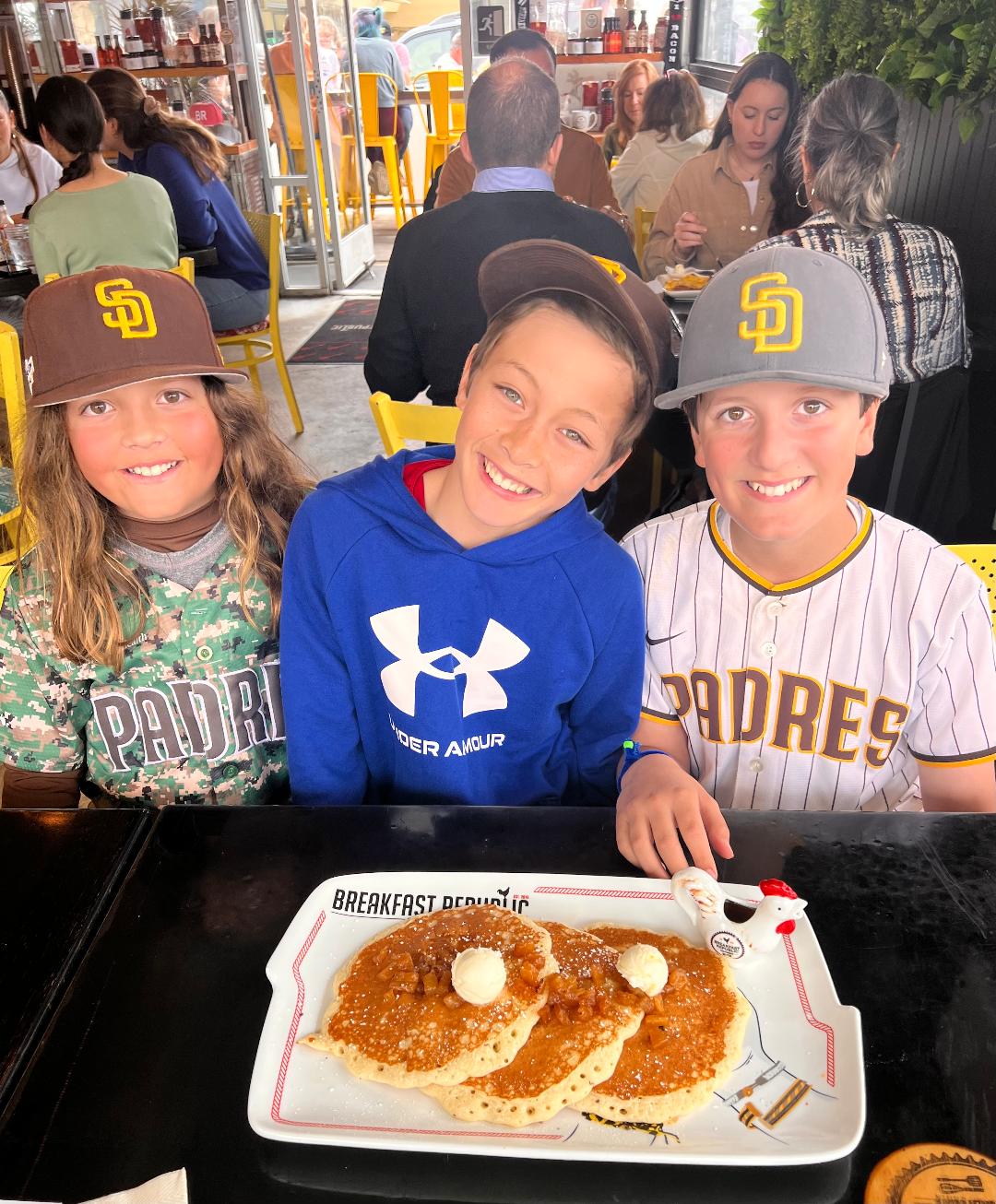 Hello LJYB Families,
Padres Baseball and Softball Camps are running several week long sessions of camp this summer, two of which are at Cliffridge Park, and they are offering our La Jolla Youth Baseball families an exclusive $50 discount on the cost of enrollment!
Padres Camps are filled with week long friendly competitions that encourage teamwork, sportsmanship, and enhances the love for the game of baseball. Our curriculum caters to boys and girls, ages 4-14, and embraces all skill levels. Padres Camps will have a reunion event at Petco Park where we invite camp families to watch and cheer on our Padres!
To view locations and access this exclusive promotion, please visit padres.com/CAMPS and enter 23LJYB50 in the promo code section of the application.
If you have any questions, please don't hesitate to contact San Diego Padres Baseball Camps at 619-213-1600 or via email at .
Below is a hyperlink with some further dates and information (you may need to paste into your browser):
https://s3.amazonaws.com/files.leagueathletics.com/Text/Documents/6914/104975.pdf
Beyond these always-popular camps, the Padres also provide LJYB with jerseys and hats for our 580+ ballplayers. It's a wonderful partnership, one which we are beyond thankful for.
Thank you,
LJYB
5ive Tool Baseball Academy is San Diego's Premier Youth Baseball Training Organization led by former Professional Pitcher & CEO Jared Eichelberger (Seattle Mariners & New York Mets Organizations).
Coach Jared & The 5ive Tool Team run training programs focused on the 5undamental 5 of baseball: Hitting, Throwing, Fielding, Base-Running & Catching.
For more detailed information and to register today for 5ive Tool Baseball Academy Camps
CLICK HERE or contact the team direct - or 858-247-1811
BASIC CAMP DETAILS
Date: June 19 - 23, 2023 @ LJYB's Cliffridge Park
Instructors: Coach Jared & His Team
Ages: 5-9 & 10-14 (Players grouped by age and skill assessment)
Cost: $450 per camper per week for Full Day (9AM - 2PM each day) or $350 per camper per week for Half Day (9AM - 12PM each day)
Hello LJYB Families,
We continue to be proud of our league's most recent partnership with Feeding San Diego.
You can learn more about their program here - - https://feedingsandiego.org/.
You can sign up to volunteer here - - https://volunteer.feedingsandiego.org/.
It's easy to register. From there, you can rally a crew of LJYB families and make it happen.
When you arrive, please let them know that you are from LJYB as we are starting to make an imprint via our collective hard work.
Thank you,
LJYB
If you have any questions about the proper perspective, we'd recommend digging in for 30 minutes as Houston Astros coach Mike Ramazzotti shares his outlook on the game. We recorded this at our fields on February 12th so the information continues to be relevant. Please be prepared for a few curse words along the way and a hefty dose of knowledge about the best way to interact with your kids and their friends as a baseball parent.
Celebrating 71 Years of LJYB
LJYB recently celebrated our 71th season and honored our current Decade on the Diamond class.
---
Challenged Athletes Foundation Clinic with Joe Musgrove
LJYB recently hosted the Challenged Athletes Foundation on our Pony field to hear numerous inspirational stories of perseverance. Padres all-star, Joe Musgrove, was also on hand.
---
Beach & Bay Battle Tournament
LJYB, in conjunction with Tecolote, hosted the 1st annual Beach & Bay Battle Tournament. The Beach & Bay Battle Tournament drew 58 youth baseball teams.
---
Celebrating 70 Years of LJYB
LJYB recently celebrated our 70th season and honored our current Decade on the Diamond class.
---
Landis Sims with Zimmer Brothers & Zach Plesac Clinic
LJYB recently hosted Landis Sims on our Pony field to hear his inspirational story of perseverance. Active major leaguers, and LJYB alums, Bradley and Kyle Zimmer, were on hand as was another MLB pitcher, Zach Plesac.
Landis's story:
---
Field Work at San Diego American Little League
The LJYB community recently partnered with San Diego American Little League to prepare Memorial Community Park for the upcoming season.
---
Cliffridge Park Beautification Project
LJYB received approval to beautify the Cliffridge Park turnabout.
---
LJYB hosts 2021 Pony Baseball Southwest Regional Tournment
LJYB hosted 67 teams at our Cliffridge Park for PONY All-Stars at nine different age levels (6-14)!
If you want to change roster/contact information, including nickname, phone number, add email addresses, etc., you will need to access your "member profile." You can do that be selecting "Edit My Account" at the bottom of the blue vertical menu bar on the left side of the website. Just type in your email address and the site will send you a password to edit contact contact information. Any questions, contact us at: .

Note also that all member profiles have a default to be notified about an upcoming game or practice. Several families have already commented that they appreciate this feature. But, if you no longer wish to receive these notifications, you can toggle them off at your member profile as well. You can also toggle on to have text reminders delivered to your mobile.